As with all visitor experiences, as they emerge into a new 'norm' whatever that may be, we see new offerings and approaches for how to interact and book.  This is true for The Macallan, they have focussed and refined their booking system and visitor offerings to increase the quality and ensure all guests have a high-end experience.  I was fortunate enough today to be invited to hear more about the Spiritual Home of The Macallan and learn top insider tips on how to book a visit for a memorable trip.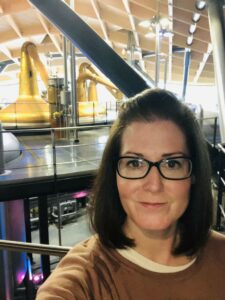 Great hospitality, knowledge and passion from all the team, and what an 'office' they have, from amazing facilities to stunning scenery and surroundings, a must-visit if you can make it when in Moray Speyside.
Returning visitors may be surprised to find the gates closed for ad-hoc drop in to the visitor centre, but The Macallan is certainly open for business and as welcoming as ever.  With a pre-booking you are warmly greeted at the gates, there after the hospitality continues.
It is always an experience in itself driving through the estate on the sweeping road that runs close to the glorious river Spey where The Macallan has its very own sought after beat for wild salmon fishing.  This is a conservation focus of utmost importance to the Estate.  As their work with the Atlantic Salmon Trust @AST_Salmon is a testament to this.  Currently, there are two imposing and stunning 'salmon' installations which are a fantastic addition to the distillery foyer.
Upon being greeted by your host, whether for a tour, tasting or boutique experience, you will have a chance to peruse the fantastic Jewel Wall.  I won't share too many pictures here, as it's best enjoyed in person, but here you be able to view the first bottle dating back to 1848 and a great size it is too!  Learn the origins of The Macallan name, see the oldest full distilled bottle dating back to a whopping 1926, as well as view the record-holding bottle for the highest sales price gained at auction.   Between this, the gorgeous designer collaboration and Lalique bottles and even spotting your birth year, this is an interesting and beautiful start for your visit.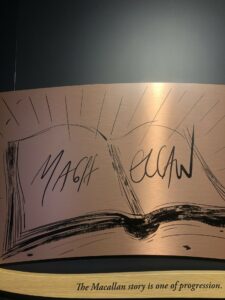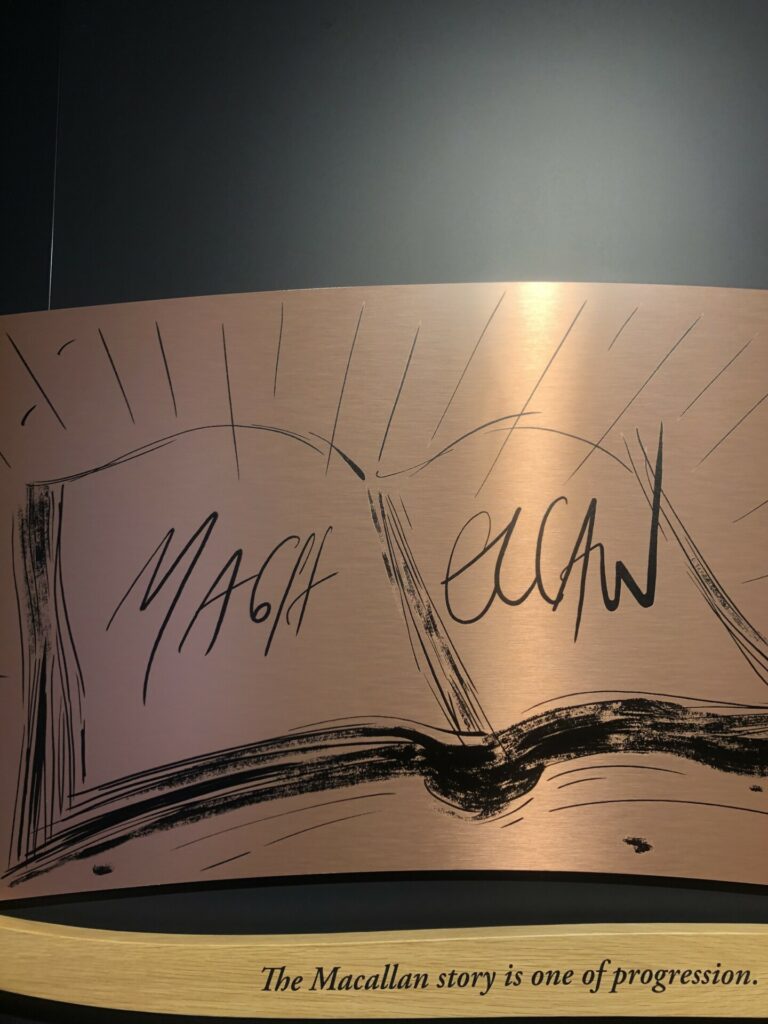 So with your appetite wetted and this has hopefully re-confirmed your intention to visit if it was ever in doubt – how do you go about planning and making your visit to The Macallan?
Preparation is key – plan well in advance, be familiar with the offerings which I've summarised below and be ready to jump online 3 months before your visit.  Too far in advance and the bookings calendars won't be open, leave it too long and you risk losing the appointment options.  All tours and boutique visits can also enjoy the glorious bar, its stunning views and the option for delicious non-alcoholic serves as well as whiskies galore, some bottles are not readily elsewhere and a VIP tasting room for those extra special drams you want to enjoy can be offered.
Key note to be aware of:  Tour, Tastings and Boutique are available (by appointment only) on Thursday, Friday, Saturday and Sunday.
Monday, Tuesday and Wednesday the Estate can still arrange a bespoke experience for that milestone, extra special occasion or corporate events, typically a 4-hour duration including lunch or dinner, but the details are all tailored for your preferences in this high-end bespoke service.
Thursday – Sunday inclusive offerings:
Tours:
The Discover Tour up to 8 guests, 10 am or 11am start, around 2.5hour duration and £50/person
The Mastery Experience, starts once per day from 12noon, up to 6 guests, 4 hour duration with lunch offered £250/person
Tours Book online : The Macallan Tour Experiences – book now
Bar Experience with three levels of tastings offered, each including a flight of three drams to enjoy and for up to 8 guests.

The Story of Oak, a great opening and accessible £35/person at 1030am lasting approx. 45 minutes with option to stay on in bar subject to availability.
The Curated Collection, at 1430 each day and £75/person includes new releases and limited editions
The Macallan Through The Ages, explore the history and heritage with three high-aged expressions this is 12.30 each day and £175/person
Bar Book online:  The Macallan Bar Experiences – Book Now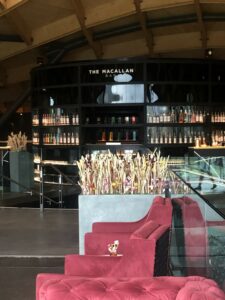 The Boutique Experience a warm welcome, attentive service and plenty of space and time is provided to peruse the drams, choose one to bring home or select a special gift. There is plenty of time to ask questions and visit the Jewel Wall and the Bar too during this experience.  The boutique can be booked for 2 guests at a time, allowing approx. 30 mins and without initial charge.  The Boutique can be visited in conjunction with any of the other experiences too.
Elchies Brasserie, is next on my list to try next and I will be planning a visit to enjoy lunch. A seasonal tasting menu is offered, and lunch service is 12 noon-1600hrs, with the last orders at 1430hrs.  £10/person deposit is required at the time of booking and the overall cost is as per set seasonal tasting menu price, last season was £44 (an additional £34/guest after deposit). Drinks and additions are priced out with this.  A selection of whisky, wine or non-alcoholic serves can be paired with the menu.  5 guests maximum per booking but there are 2 or 3 tables per time slot so the speed of booking means you may be able to book for more than 5, bearing in mind the tables will be separate.  It is a stunning location with scenery and a fascinating distilling process all in sight.
Brasserie Booking link:  The Macallan Elchies Brasserie – Book Now
The Boutique Experience offers a warm welcome, attentive service as well as plenty of time and space to peruse a memorable dram to take home, or choose a special gift for someone.  Both tours and Boutique experience give you the opportunity to visit the incredible Jewel Wall and typically a visit to the bar should you wish.
All of these tips and information are correct as per my research and at the time of writing.  Changes of course will happen and I'll do my best to keep it up to date as I learn of new offerings or changes to times and/or details.   If we can help with more detail on this, or a wider service of local information, plans and reservations we're always happy to help when in conjunction with your booking to stay at any of Speyside Cottages luxury holiday homes.
A frequently asked question is, how close are Speyside Cottages luxury holiday homes to The Macallan? Dufftown is one of the closest towns, approx. 5 miles, and we recommend 15 mins for comfortable driving time.  Some have walked, but this is certainly more of a hike and the return journey is not so fun once you have relaxed.  We can assist with taxi service planning or pass on details for you to make these plans too.
Our Dufftown homes include:
The Milking Sheds, 2 guests each, up to 4 guests on one site
Ben Shea Smart Home, Finalist of UK Hottest Property 2022, hosts up to 6 guests as super king or twin bedroom set up
The Tannochbrae, a stunning 150year Victorian historic home with 5 bedrooms all ensuite.
www.speysidecottages.com for a full gallery and details or reach out to us directly, we'd love to chat in more detail:  stay@speysidecottages.com  or +447801350723